Five
Roe V Wade Overturned
Heartbeat Law in place for Ohio
July 1, 2022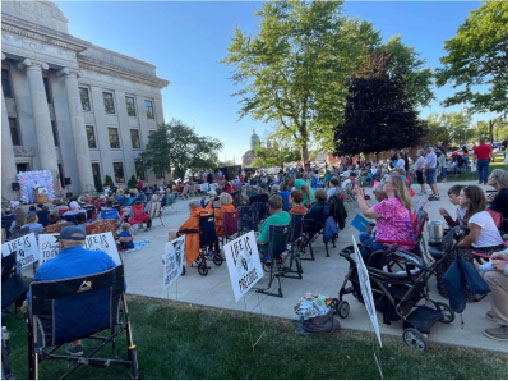 What a week!!
"Roe was egregiously wrong from the start. Its reasoning was exceptionally weak, and the decision has had damaging consequences. And far from bringing about a national settlement of the abortion issue, Roe and Casey have enflamed debate and deepened division. It is time to heed the Constitution and return the issue of abortion to the people's elected representatives." -Justice Alito remarks in Dobbs Decision
At this time last Friday, we were celebrating the U.S. Supreme Court's Dobbs Decision. This decision finally put to rest one of the most egregious and devasting court decisions in our country's history, Roe V Wade. For 49 years, the pro- life movement worked through the system and with the system to correct the injustices that have come out of the Roe decision. Last Friday's victory is a testament to prayer, faith, resilience, courage, and perseverance. We want to congratulate all of our member groups and their decades of support for LIFE! Here are just some of the events and news coverage our member groups organized. The picture above is from Mercer County—what a great crowd!
Quote from the Canton Repository regarding RTLACO VP Walter Moss– "The Revs. Walter and Darleen Moss of Canton, are longtime activists in opposition to abortion. Walter Moss, a retired Foursquare minister, wrote a book, "Why I'm a Black Pro- Life Pastor." Moss has organized protests and rallies and has spoken on the issue around the country. He also has worked with the Rev. Alveda King, a niece of the Rev. Martin Luther King Jr. "Yes, we are rejoicing over the Supreme Court decisions this week for school choice, for protecting the 2nd Amendment, and for the overturn of Roe v Wade," Moss said. "We raise three hallelujahs!" From the Dayton area, RTLACO President Margie Christie and Rep. Jena Powell's joint press conference.